In Honour of Prof. Alexander Mielke
From September 24 to 28, 2018, the workshop ALEX2018 will take place at WIAS and HU Berlin. 12 keynote lectures and around 30 invited talks will address new aspects for evolutionary PDEs (partial differential equations) with a wide range of applications in physics, biology, chemistry and engineering. The afternoon of September 26th is reserved for a special colloquium in honor of Alexander Mielke's 60th birthday.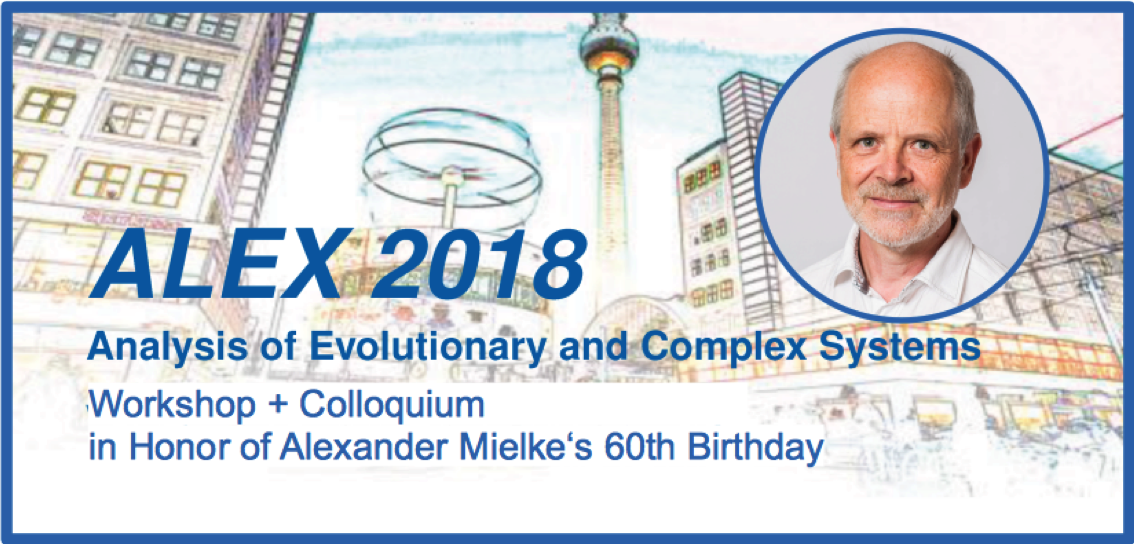 The focus of the Workshop ALEX2018 - Analysis of Evolutionary and Complex Systems will be put on four main topics:

• Variational methods for continuum mechanics,
• Gradient and Hamiltonian structures,
• Dynamical systems,
• Multiscale problems.

Applications may include modeling of smart materials, interrelation between stochastics and PDEs, multi-particle systems, transition from discrete to continuum, quantum mechanics, and reaction-diffusion systems.

The workshop starts Monday, September 24, at 9 am and ends Friday, September 28, at about 1 pm. There will be 12 keynote lectures (45 min) and about 30 invited presentations (30 min). The talks scheduled on Monday, Tuesday, Thursday, and Friday will take place in the Erhard-Schmidt lecture hall of the Weierstrass Institute.
On Wednesday, September 26, we are planning a social event in the morning and a workshop dinner in the evening.

The afternoon of the 26th is reserved for a special colloquium in honor of the 60th birthday of Professor Alexander Mielke, which will take place in lecture hall 1.101, Universitätsgebäude am Hegelplatz, Humboldt-Universität zu Berlin (Dorotheestr. 24, 10117 Berlin).

Further information about the program can be found here.
Date/Time
:
2018-09-21
---
Back to overview »